The BioPrep and The BioSage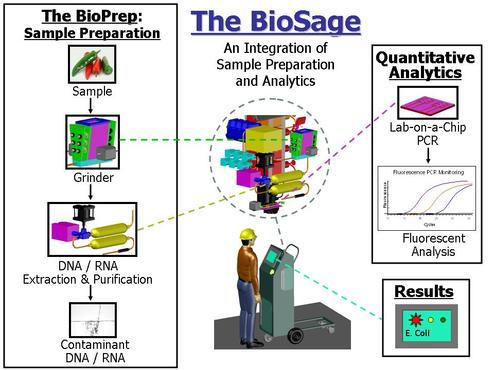 Ag-Defense Systems has developed an automated sample preparation device, the BioPrep, capable of extracting and purifying nucleic acids (DNA and RNA).


Ag-Defense Systems is currently developing the BioSage, a field deployable device, which integrates real-time isothermal PCR with the BioPrep, and can identify and quantify any bacteria or virus within 1 hour.
The BioSage is a diagnostic screening and disease outbreak device that can be used to detect potential diseases or conditions in plants, animals, group of animals, or plant and animal products. The BioSage may be used in any phase of an outbreak response including pre-disease, outbreak, and recovery, giving a rapid confirmatory diagnosis. The BioSage can be used to "rule-in" or "rule-out" any domestic or foreign animal or plant, emerging, or zoonotic DNA or RNA based bacteria or virus.
The BioSage is a rapid detection system that does not need to be followed up with laboratory confirmation and can be used for any type of animal or plant sample including:
Liquids such as milk and meat juice

Bodily fluids such as saliva, urine, and blood
Meat / animal tissue such as skin, muscle, and organs
Fruits and vegetables
Environmental samples such as dirt and feces

---